Agape Acres
---
North Georgia's Newest Premier Wedding Venue
Nestled in the foothills of the North Georgia mountains, Agape Acres sits on 43 acres of rolling pastures and is surrounded by woods. This idyllic estate provides breathtaking views and rural tranquility. The grounds abound with horses, a miniature donkey and verdant trees, making this a storybook setting. Agape is Greek for love, reflecting this venue's commitment to creating a romantic and atmospheric location to celebrate timeless love stories.
Guest Count Info
Guest Min: 10
Guest Max: 150
Frequently Asked Questions
Inside the post and beam barn, you'll find a 2-story view with beautiful chandeliers, a built-in bar and lounge area with leather sofas, and caterers' kitchen. Brides and bridesmaids have the entire 2nd floor of the barn with queen-size bed, mini-bar area, make-up and hair bar, and a private bath. The recently completed Grooms' Suite provides a spacious area where the guys can relax, watch TV, play a game of darts or cards—while enjoying beverages from their private frig. All indoor space is climate controlled.
When you open the huge doors in the back of the barn, you find a large pavilion with conversational seating areas and gorgeous views. The spacious rocking-chair porch provides a view overlooking the pond. A large courtyard area adorns the front where drinks and horderves can be enjoyed by you and your guests.
Rates / Packages
We offer "Venue-only" pricing for couples who want a DIY (Do It Yourself) wedding, or you can choose one of our "All-inclusive Packages"…or we can customize a package specifically for you—to meet your vision, dream, and budget.
Share with Family & Friends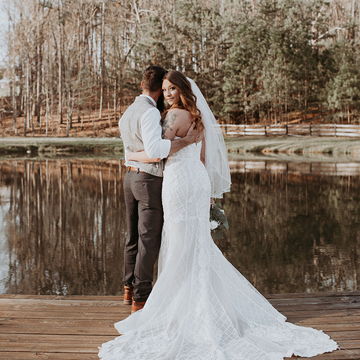 Galleries & Reviews
Contact Info
Location
Agape Acres
1259 Little Mountain Road
Dawsonville, Georgia 30534
Tags
North Georgia Wedding Venues
All-inclusive
Farmhouses, Wedding Barns and Ranches
Outdoor Weddings, Parks & Gardens
Rustic Weddings
Spectacular Views
Weddings on the Water
Wedding Venues
---
Member Since Sept. 1, 2022
Review This Vendor