The Pen Palette
Average Rating: 5.00 out of 5
(1 Review)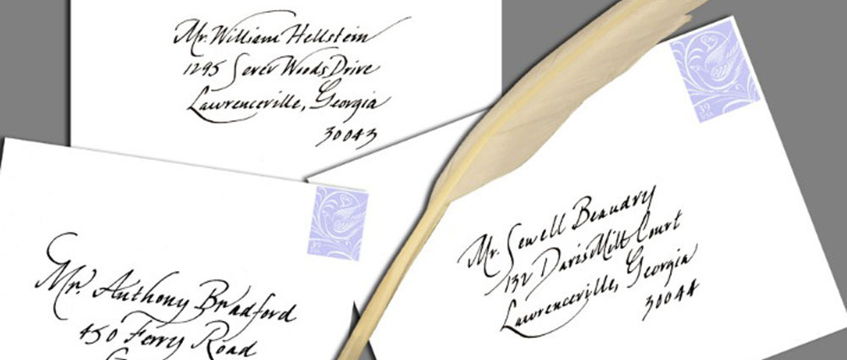 ---
Elegant, original handwritten calligraphy (print and script) in a broad array of contemporary and classical styles in various flourishes. See website.
The Pen Palette offers unique and distinctive handwritten calligraphy (not computer generated or printed) at reasonable prices with fast turnaround. The calligrapher is an experienced professional with 25 years of experience and a long-time member of the Atlanta Calligraphy Guild.

Many contemporary and classical styles to choose from, including both print and script in varying flourishes in the ink color of your choice. Services include all original handwritten media; envelopes, invitations, (original master), place cards, wedding books, monograms, seating charts, etc.

Located conveniently near Perimeter Mall.

See website for complete description of services, sample styles and contact/ordering information.

Available Monday to Friday by appointment, as well as weekends.

Customer Testimonials

Thank you for all of your hard work in lettering our wedding invitations and they were truly a work of art, so thank you. We appreciated your calm confidence and amazing skill so we look forward to working with you again as we celebrate life's successes.
Michelle 12/11/2011

A tremendous thank you for doing the calligraphy for my daughters wedding invitations. They were absolutely beautiful, and we are still getting comments and compliments. You have a tremendous talent, and I'm so happy that we found you. Thank you so much.
Christy 9/08/2010

I was extremely pleased with John's work since I extensively used his services including invitation design and master, envelopes, place cards, menu and seating chart. A true professional!
Brooke 3/11/2012

John has extensive experience and offered a broad menu of services. I was extremely happy with his professional approach, timeliness and overall helpfulness with my wedding.
NK 3/05/2011

My wedding planner has been referring John for 10 years and referred him to me as well. I was extremely satisfied with his excellent work, timely manner of delivery, professionalism and price. His work was above and beyond. Melanie S. 9/03/2011
Rates / Packages
Reasonable pricing varies by style. Broad array of original handwritten styles and variations with creative, artistic approach.
Share with Family & Friends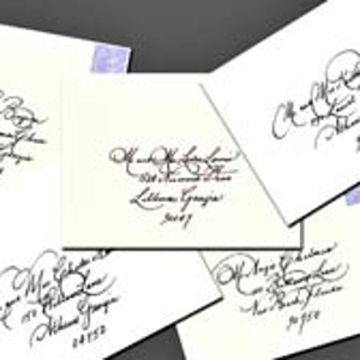 Galleries & Reviews
Contact Info
Tags
Calligraphers
---
Member Since Nov. 20, 2007
Review This Vendor