Selecting the entertainment for your wedding can be a difficult task. With so many disc jockeys to choose from, it is hard to know who to hire. So, in researching local disc jockeys, I found a great company that can provide a variety of services: Classified Events
Now, despite the "dotcom" in the name, Classified Events is actually an entertainment company with a Web site -- not an "Internet business". Classified Events is a disc jockey service that will certainly play your favorite recorded music, but also offers live trumpet and vocals to add a unique touch to your ceremony and reception celebration.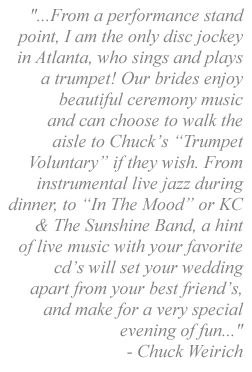 Over 20 Years of Experience
Chuck has been a full-time professional musician and entertainer for over 20 years. He and his wife, Rita, met singing in a touring show band in 1979. They were married in 1982 and have been entertaining together ever since. In 1997 Chuck began the disc jockey division of the company, and now offers a live music/disc jockey format. Chuck refers to this as offering "The Best of a Band, and the Best of a DJ, all in one, in short, Atlanta's Musical DJ."
A Full-Time DJ
As you probably already know, some disc jockeys are full-time "professional disc jockeys" and some are part-time disc jockeys. The part-timers usually have a regular 9 to 5 job during the week and only DJ on weekends. You can draw your own opinions about the different types of disc jockeys but I give Classified Events an A+ for being a full-time professional disc jockey and entertainment service with an outstanding track record.
Why Hire Classified Events Over Other Disc Jockeys?
"I enjoy taking customer service to the max, beginning with answering my phone! Every bride and groom becomes MY guest of honor!" Chuck says. "From a performance stand point, I am the only disc jockey in Atlanta, who sings and plays a trumpet! Our brides enjoy beautiful ceremony music and can choose to walk the aisle to Chuck's "Trumpet Voluntary" if they wish. From instrumental live jazz during dinner, to "In The Mood" or KC & The Sunshine Band, a hint of live music with your favorite cd's will set your wedding apart from your best friend's, and make for a very special evening of fun. I truly enjoy taking care of my brides and grooms; from the moment they contact us, all the way to the very last song played at the reception."
Sounds good to me!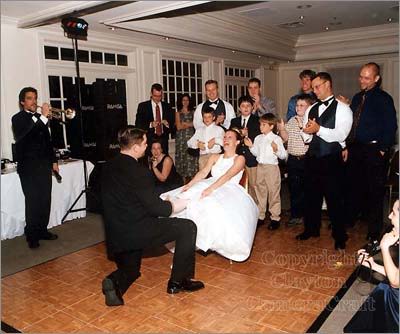 Also Offering Live Music
Well, I've mentioned a couple of times already that this company offers live music so I should probably clarify. Classified Events is not a dance band or an agency. They offer a very unique "live music package" that features Chuck's wife, Rita, as a vocalist. This instrumental and vocal/disc jockey combination offers music for everyone. Each package is personally designed for couples who appreciate and desire the class, elegance and sophisticated fun that live music can bring to their wedding ceremony, dinner hour and reception celebration.
In addition, if you are undecided between a band or a dj, Classified Events may be the perfect solution for you. Offering great music and an all-inclusive price that is sure to please, you should find everything you want with one phone call.
Customer Service Is Important
Classified Events seems to be very customer service oriented which is an A+ for me. I want to be able to get in touch with the vendors I am using and I have found that Chuck is very responsive to both phone calls and emails. Chuck says "I always answer my phone, and I'm paged when I'm out of the office."
When working with couples, Chuck will make an appointment to meet with them at a restaurant near their home, and spend the time it takes to become what he calls "their professional friend". Chuck says he is "always available to my couples whenever they need me...their wish is my command!" In addition, a follow up in-person consultation a few weeks before the wedding is always offered.
ADJN - Atlanta Disc Jockey Network
In addition to the entertainment services provided directly by Chuck and Rita, they also founded and manage the Atlanta Disc Jockey Network, a disc jockey referral service designed to refer or find a great disc jockey in just a matter of a few minutes. "Our team of 30 professional entertainers are ready to serve you! We track each member's available Saturdays throughout the year, and everyday in December, to ensure our clients enjoy the very best entertainment Atlanta has to offer. In the event our musical services are pre-booked on your party date or wedding day, I will personally refer one of our professional DJ's to assist you. ADJN is not an agency. You will personally interview and book your entertainment!"
What Clients Are Saying...
Following are some quotes from actual customers.
"We were very impressed with how professional Chuck was and how responsive he was to our questions and concerns - always making us feel like his top priority, no matter how many other jobs he was working on....Chuck's DJ skills were impeccable - he kept everything running so smoothly, taking care of the agenda so that Matt and I could relax and mingle. If anything went wrong, he took care of it, and we never knew about it."


- Elena and Matt 8/3/2002
"I feel like I am writing a letter to a wedding coordinator, not a DJ. But that's just it, you took the extra step. Planning for a wedding is a challenging process, but because of your professionalism, experience, and knowledge, you became the magician that really brought everything together. I strongly believe now, that it is the DJ that controls the flow of a wedding and the reception that follows."


- Ryan and Kelly 5/18/2002
"Thank you for being so attentive - that is one of the many reasons I was thrilled to hire you!"


- Sharon 8/9/2003
"Thanks so much for your help with my search for a DJ for my wedding. This has been above and beyond what I would have expected.


- Xiomy 10/18/03 (ADJN)
Contact Classified Events
I think any couple that hires Classified Events will be happy. For more information, click here for contact information.
Experience: Over 20 years experience

Location: Serves the entire metro Atlanta area

Associations: Georgia Mobile Disc Jockey Association, ADJN, Professional Wedding Guild

Pricing: Weekend packages starting at $895.

Availability: One wedding per day. Call for availability.

What I Liked:
Chuck and Rita are super nice genuine people.



Professional full-time DJ and entertainer.



Plays the trumpet.



Will help couples find other professional wedding vendors.



Web site includes a song list and music samples.
Contact Information:
click here