McBrayer Ranch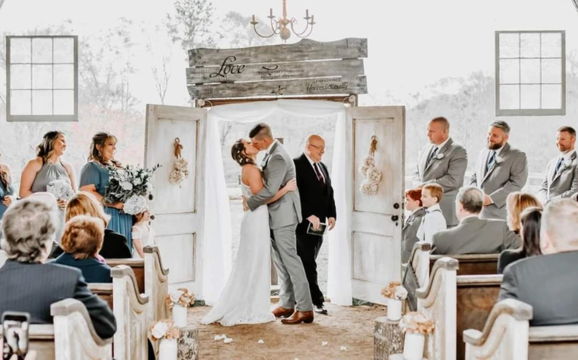 ---
Wedding Day at the Ranch!
Welcome to McBrayer Ranch! We would be honored to make your special day unforgettable!
Our barn is fully decorated and ready to go, complete with tables and seating for your guests. Our Chapel is the perfect setting for your ceremony, complete with charming church pews. And when it's time to dance the night away, our corral is the place to be, with gorgeous lighting to set the mood.
Our venue includes so many amazing features! Not only can you take your engagement photos here, but you can also use our beautiful horses as a backdrop! You'll have access to the venue for both your rehearsal and wedding day.
But that's not all! The Bridal Salon and loft are perfect for the bride to get ready in, while the Grooms Hall is a great spot for the groom to hang out before the ceremony. In addition, we have a separate area for the bride and groom to share their first meal together as newlyweds.
Our venue can accommodate up to 150 guests, and if you have a smaller event in mind, we can customize an hourly rate package just for you. And for an additional fee, we offer wedding coordinating and planning services to help take the stress off you.
We can't wait to celebrate with you at McBrayer Ranch!
Testimonials
Beautiful venue, perfect location. Great flexibility, wonderful owner. I loved being able to come to a completely furnished & decorated venue & just add my finishing touches. Our day was perfect & I wouldn't trade it for anything. - Jennifer Hennesy Jones
We absolutely loved our venue! Lori was so helpful with everything! I will definitely recommend this venue for anyone looking for weddings, birthday parties, etc! Thank you so much, Lori! - Whitnei Bradshaw
This wedding was such a good combination of class and country. Loved it so Much! - Kathryn G. Photography
Had a great time tonight at the McBrayer Ranch with Lori. Can't wait for Saturday! - Tanya Orr
**Please contact us directly through AtlantaBridal
Guest Count Info
Guest Min: 50
Guest Max: 150
Frequently Asked Questions
Can I use my own caterer and other service personnel?
Yes, McBrayer Ranch does not require you to use in-house caterer, florist, etc. However, we are more than happy to refer you to some of our preferred vendors.
​Can we use sparklers?
Sparklers are permitted, under the supervision of Coordinator,
Is there a charge for the ceremony rehearsal?
1 hour of rehearsal time is included with your booking.
​Can I use candles?
No. However LED candles are permitted.
​Will there be another wedding on the grounds on the same date?
No, we only schedule one wedding per day however, there may be a birthday party schedule the same morning only.
​Can we take our engagement photos on the grounds?
Yes, you must arrange a date and time with Lori McBrayer in advance.
Rates / Packages
Included with every package:
Covered ceremony space with pews
Barn Reception with Food and Drink Room
Decorated Venue with Tables and Seating
Use of Bridal Salon, Loft and Grooms Hall
Venue use for Engagement Photos, scheduled in advance with venue owner, with a 1-hour time allowance with your own photographer
Wedding rehearsal time of 1 hour, Thursday before the Wedding Day.
Up to 5 hours of ceremony/reception time
Saturday Full Day Rental $3,250
Includes: Up to 150 Guests
Venue Access from 11AM-11PM
Additional Guests will be $25 per person
Ceremony: 5:30pm
Clean-up: 10-11pm
Saturday Evening Venue Rental: $2,750
Includes: Up to 150 Guests
Venue Access from 3PM-11PM
Additional Guests will be $25 per person
Ceremony: 5:30
Clean-Up: 10-11pm
Saturday Brunch Venue Rental: $1,750
Includes: Up to 75 Guests
Venue Access from 9AM-2PM
Ceremony: 11:00am
Clean-up: 1:30-2pm
Friday Evening Venue Rental $2,250
Includes: Up to 100 Guests
Venue Access from 4PM-11PM
Ceremony: 6:00pm
Clean-up10-11pm
Sunday Venue Rental $2,250
Includes: Up to 100 Guest
Venue Access from 2PM-9PM
Ceremony: 4:00pm
Clean-up: 8-9pm
************Additional Guests will be $25 per person
Rehearsal Times: Thursdays before the wedding day/unless another day is preapproved by Lori.
Cleanup: The venue must be cleaned up and vacated by the end of each contracted event. Clean up will start an hour before event ends.
House Coordinator: $500. Includes vendor referrals, timeline, rehearsal, and wedding day coverage. Extra help with planning by the coordinator is available for an added fee.
Bartending: Bartending Service/licensed Bartender will be needed for all events serving alcohol and liquor. (ANY ALCOHOL SERVED; SECURITY MUST BE PRESENT) ADDITIONAL FEE PER HOUR
Additional Hours: $150 per hour for additional venue hours, this will depend on the day and time of the event.
**************ALL DEPOSITS AND PAYMENTS ARE NON-REFUNDABLE!
Tagged in Posts
Share with Family & Friends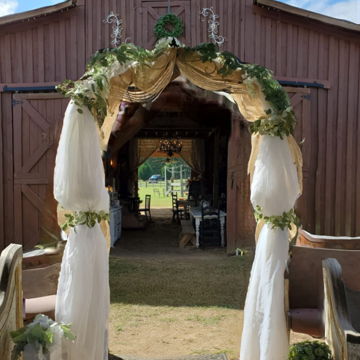 Galleries & Reviews
Contact Info
Location
McBrayer Ranch
2123 Pine Valley Rd
Powder Springs, Georgia 30127
More Reviews
Tags
Dallas / Powder Springs / Hiram / Rockmart Wedding Venues
Douglasville Wedding Venues
Marietta / Kennesaw Wedding Venues
Allow Outside Alcohol (BYOB)
Allow Outside Catering
Churches and Wedding Chapels
Farmhouses, Wedding Barns and Ranches
Outdoor Weddings, Parks & Gardens
Rustic Weddings
Wedding Venues
---
Member Since May 8, 2019
Review This Vendor