The Solarium at Historic Scottish Rite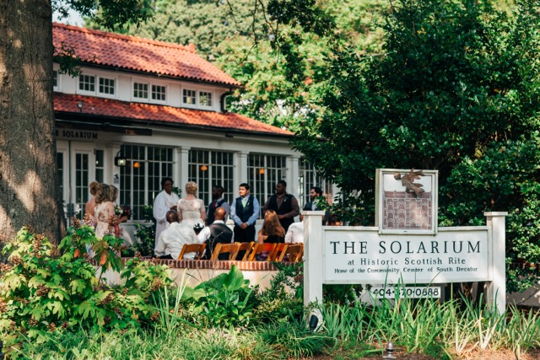 ---
The Solarium is an elegant and unique (yet affordable) backdrop for any type of personal or corporate event, large or small.
The Solarium at Historic Scottish Rite, one of Metro Atlanta's more unique event facilities, is housed in one of the community's finest architectural gems.

Designed in 1919 by Neel Reid, one of Atlanta's most renowned architects, the building housed the original Scottish Rite Children's Hospital, operational until the mid 1970's. Vacant for almost three decades, this historic structure is now a mixed-use facility with over 3,000 square feet of space for special events and community gatherings, thanks to the efforts of the community and the City of Decatur. The Solarium is operated by the Community Center of South Decatur, a non-profit organization which spearheaded efforts to preserve the historic building.

On the National Register of Historic Places, The Solarium's white stucco exterior, red Spanish tile roof, and copper pipes have been carefully restored to their original beauty. Banks of windows line the entire front of the building, and clerestory windows grace the two main rooms, allowing natural light to flood into the space. The interior has been refurbished with oak hardwood floors, beautifully detailed paint-work, and period-style lighting fixtures.

The Solarium can accommodate up to 200 guests for standing events, up to 150 for buffet-style events, and up to 170 guests for seated meals. A beautiful (and affordable) setting for a wedding and/or reception, Bar/Bat Mitzvah, corporate dinner or party, special birthday or holiday party, book The Solarium at Historic Scottish Rite for your next event!
Guest Count Info
Guest Min: 25
Guest Max: 200
Rates / Packages
Share with Family & Friends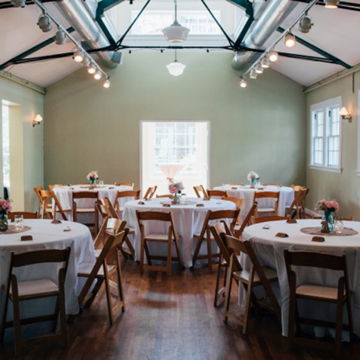 Galleries & Reviews
Contact Info
Location
The Solarium at Historic Scottish Rite
321 West Hill Street
Decatur, Georgia 30030
Tags
Atlanta Wedding Venues
Decatur / Agnes-Scott Wedding Venues
Allow Outside Alcohol (BYOB)
Allow Outside Catering
Ballrooms and Banquet Facilities
Historic Sites
Wedding Venues
---
Member Since May 16, 2004
Review This Vendor