Bison View Lodge Micro Wedding Weekends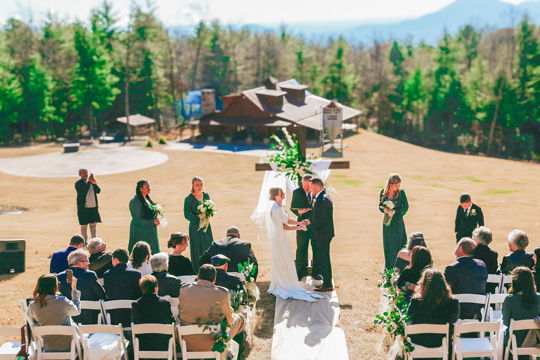 ---
Specializing in micro wedding weekends in the North Georgia Mountains
Why invite 200 people that you never see when you can spend three blissful days with the 20 to 75 people that you love the most! And the best part? It costs less than most venues and your time is incredibly more meaningful. It's time to ditch huge, overhwelming weddings!
At Bison View Lodge, our superpower is the intimate micro wedding weekend! People LOVE getting married here for the gorgeous outdoor spaces that feature a rustic, "lodgey", mountain vibe. We can sleep up to 50 people to stay overnight on the property and can accommodate up to 75 on the day of your wedding.
If you've never heard the term "wedding weekend", it basically means that the bride and groom want all of their wedding guests staying together for the entire weekend. It is kind of like a family/friends weekend getaway meets wedding ceremony.
We would love to show you why a wedding weekend is far superior than a typical large wedding.
Guest Count Info
Guest Min: 15
Guest Max: 70
Frequently Asked Questions
What is your wedding size?
Because of our residential septic systems, we have a hard cap at 50 people for overnight accommodations. The total guest list "day of wedding" has a cap of 75, including the wedding party. Most of our weddings are around 35-60 people.
Do you have preferred vendors?
We have required food and beverage caterers if you choose catering as your option. We love our caterers because they do a fantastic job for our guests, and they leave the property in amazing condition! You may choose all other vendors.
You have a helipad?
We sure do! Want to make a spectacular entrrance or exit? Have a helicopter wisk you off once you say "I Do"! Or simply go for a ride as a way to celebrate your new commitment. It's something you will never forget!
Where can I hold the reception/rehearsal dinner?
The barn is where most have their reception, either inside or out. It has seating and service for up to 75 people. It features a large kitchen, commercial smoker, and a very cool tiki bar.
For those that want an outdoor reception, the area in front of the barn as well as the side porches of the barn make a very scenic spot.
Rates / Packages
You can view our most current pricing here:
https://bisonviewlodge.com/wp-content/uploads/2023/11/Direct-book-wedding-2024.pdf
Blog Articles
Tagged in Posts
Share with Family & Friends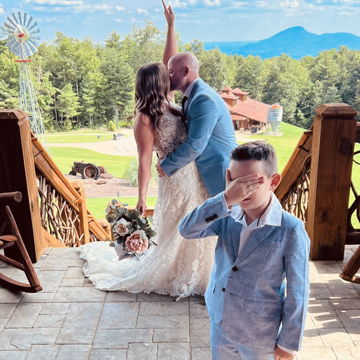 Galleries & Reviews
Contact Info
Location
Bison View Lodge Micro Wedding Weekends
3049 Tray Mountain Road
Helen, Georgia 30545
Tags
North Georgia Wedding Venues
Farmhouses, Wedding Barns and Ranches
Guest Accommodations
Hotels and Resorts
Mountain Weddings
Rehearsal Dinners
Spectacular Views
Vineyards and Wineries
Wedding Venues
---
Member Since Nov. 19, 2023
Review This Vendor