DaCapo Strings ATL
Average Rating: 5.00 out of 5
(21 Reviews)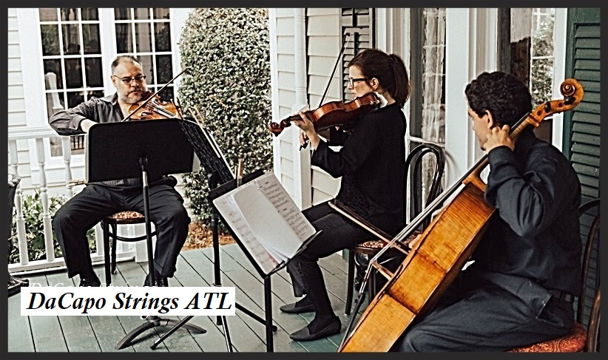 ---
DaCapo Strings Atlanta -- DaCapoATL.com -- Experience and Elegance. Atlanta's most sought after string ensemble. 404-358-5297 or carla.violist@gmail.com. Please see our website for our most up-to-date information.
Please see our website for the latest information,
www.DaCapoATL.com
Elegant, Genuine, Experienced...

Let us bring the wedding of your dreams to life. With the Da Capo Strings Atlanta, we take your wedding music preparations off your shoulders but never out of your hands. We can help coordinate song ideas for your ceremony and set the ambience for your cocktail or reception. Have a business event coming up that needs music? We do those, too.
The DaCapo Strings Atlanta is a full-service wedding and event string Quartet/Trio based in the Greater Atlanta area. We are an ensemble of experienced professionals who perform different genres of music to help meet the needs of our clients. Ensemble members include musicians from the Atlanta Symphony Orchestra, the Georgia Philharmonic, Atlanta Symphony Community Orchestra, Atlanta Pops Orchestra, and other prestigious orchestras in the Greater Atlanta Area.
We've had the honor to perform at venues such as The Atrium, Rhodes Hall, Roswell Founders Hall, Flint Hill, TPC Sugarloaf, The Biltmore (Midtown Atlanta), The Tate House, Botanical Gardens, Midtown Atlanta, and many venues, churches, and places of worship in the Greater Atlanta Area.
The DaCapo Strings Atlanta ensemble has become known for creating special events by listening to our clients' needs and helping create the event they envision.
Let us help make your event special and stress-free. We look forward to hearing from you! Be sure to visit our website (www.DaCapoATL.com) to see our most recent reviews.
Customer Testimonials
"Thank you so much for being such an amazing partner through the last two years while we've been planning and moving around our wedding. You have been so empathetic and flexible...We are so grateful..."
Emily & Evan Wilson, October 2021
"Thank you all for your beautiful music. It was really lovely."
Allen Hunt, Father of the groom, Sam Hunt, April 15, 2017
"Thank you for the beautiful music you performed at Brittany & Josh's wedding. Your music was so perfect to a wonderful event."
Becky & Curt Harshman, Parents of the Bride
Flint Hill
​October 2015

"I am so glad the weather held out for us. The music was beautiful! You did an awesome job."
June Lassetter, Godmother to Bride
Flint Hill
​October 2015

​"...wonderful!!"
Charlene Rowe, Mother of the Bride
TPC Sugarloaf Country Club
November 2015

"Thank you for making our wedding, and reception an amazing day!!!"
Tammara Housel, Bride
July 2015

"Thank you so much for being a part of the happiest day of my life! The music was perfect and made the ceremony complete! I always imagined walking down the aisle while a quartet played... Thank you for making my dreams come true."
Brittany & Joshua Meeks, Flint Hill​​, October 2015
(Read more testimonials at https://dacapoatl.com/testimonials)
Frequently Asked Questions
For the most recent information, please see our website:
https://dacapoatl.com/faq
Rates / Packages
Our services begin at $200 (depending on number of musicians). Please feel free to contact Carla with any questions you may have. SPECIAL PACKAGES AVAILABLE!!
For the most recent information, please see our website:
https://dacapoatl.com/
Share with Family & Friends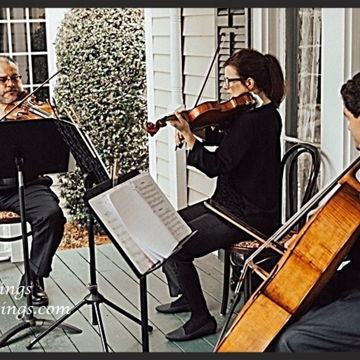 Galleries & Reviews
Contact Info
Tags
Cellists
Ceremony Musicians
String Quartets
---
Member Since Jan. 18, 2013
Review This Vendor