Juliette Chapel & Events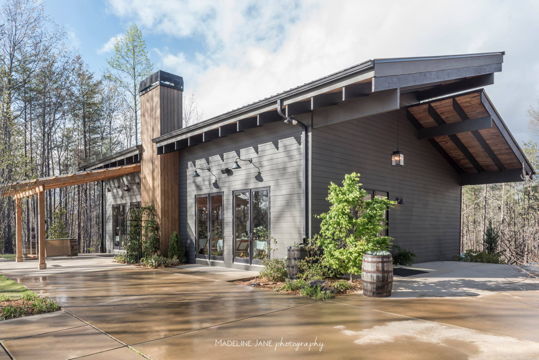 ---
The Perfect Setting for Intimate Weddings and Events
The Juliette Chapel & Events facility is a unique and lovely DIY facility that is ideal for budget conscious brides that want a beautiful wedding and gorgeous setting without spending a fortune and without sacrificing beauty. The facility is available for rent and can be used at your discretion. Spend as little or as much as your budget allows. The Juliette Chapel & Events is perfect for smaller, intimate weddings of up to 70 seated guests. The facility is comprised of a small wedding chapel and a separate reception building. The Chapel has walls of glass with a wooded view and doors that spill out onto an adjoining patio that connects the chapel to the reception facility. The reception space flows indoors to outdoors and has a kitchen, bathrooms and bride's room. If you are looking for an intimate location that celebrates nature, the Juliette Chapel & Events may be the perfect fit.
Guest Count Info
Guest Min: 10
Guest Max: 80
Rates / Packages
$1,400 - Monday - Thursday $2,000 - Friday or Sunday $2,500 - Saturday.
Bring in your own vendors or DIY! Tables and chairs included, as well as caterers kitchen and bride's changing room.
Share with Family & Friends
Galleries & Reviews
Contact Info
Location
Juliette Chapel & Events
497 Hwy 52 West
Dahlonega, Georgia 30533
Tags
North Georgia Wedding Venues
Allow Outside Alcohol (BYOB)
Allow Outside Catering
Churches and Wedding Chapels
Mountain Weddings
Outdoor Weddings, Parks & Gardens
Spectacular Views
Wedding Venues
---
Member Since July 15, 2013
Review This Vendor