Sautee Mountain Retreat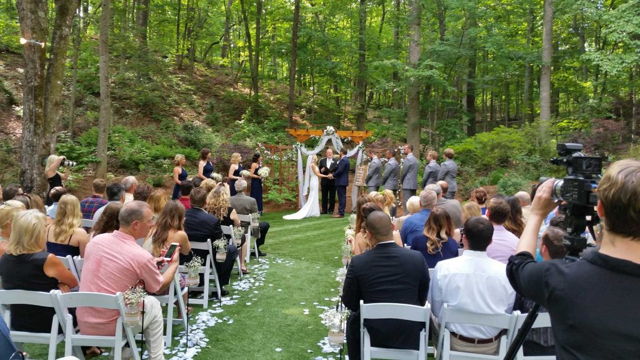 ---
North Georgia Mountains Premier Wedding Venue
Sautee Mountain Retreat hosts weddings designed to meet your specific wants and needs. Whether you're planning a large-scale event or an intimate affair, our helpful staff will do everything we can to make your dream wedding a reality.

Even if you prefer to have your wedding at one of our partner venues, we will be happy to provide the accommodations for your wedding party and guests.

In addition to receptions, our Mountain Lodge is perfect for rehearsal dinners, pre- celebrations and next day brunches. This means guests will have only a leisurely stroll back to their cabins or villas and won't have to worry about driving. We can make all of these events part of your custom package.

Ask about our other venue, Owls Nest Estate, as another option for your big day!

Customer Testimonials

"This place is absolutely beautiful. It was a beautiful place to have a wedding and to have guest from out of town stay the night. Kathryn did everything she could to accomplish everything we asked for on our special day. All of the staff were very friendly. The place was clean. At the end of the night they boxed everything up so it was easy pick up for us the next morning. We couldn't have asked for a better place. They provided chairs, linens, bar area, kitchen (minus the stove) but there are grills, dishes, glasses, silverware and tapers. They did a very good job. They set up and cleaned up. We just had to lay out our decorations and set them how we wanted them. They provided a nice a list of preferred vendors but not required. We did get an appetizer bar which was phenomenal. Everyone loved the place and had a really great time. If your looking for a beautiful place with a nice and friendly staff that accommodate you in any way they can, this is your place."

"My daughter's wedding was there. The venue was pretty and the people were friendly. Our cabin was large enough to give us plenty of room and made it very convenient for the wedding."
Guest Count Info
Guest Min: 25
Guest Max: 100
Rates / Packages
$4,000 for the Day or $4,500 for the weekend.
Share with Family & Friends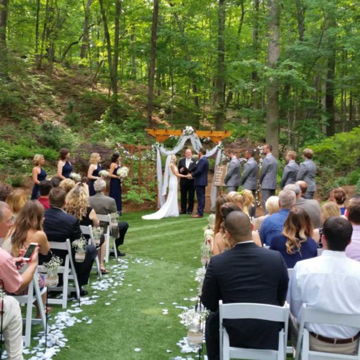 Galleries & Reviews
Contact Info
Location
Sautee Mountain Retreat
595 Highway 255
Clarksville, Georgia 30523
Tags
North Georgia Wedding Venues
Allow Outside Alcohol (BYOB)
Allow Outside Catering
Guest Accommodations
Mountain Weddings
Outdoor Weddings, Parks & Gardens
Rustic Weddings
Waterfall Weddings
Wedding Venues
---
Member Since Sept. 7, 2015
Review This Vendor