White Laurel Estate
---
Where the Hills Kiss the Sky
White Laurel Estate is North Georgia's Premier Wedding Venue - built with LOVE
Conveniently located at the north end of Forsyth County near Dawson County, with easy access to Lake Lanier, and 400, this 16 acre estate offers wedding packages to suit every taste and budget.
We have a White Barn Wedding Venue, surrounded by rolling green hills for your dream wedding in North Georgia.
White Laurel Estate offers flexible wedding packages that ensure your day will be extraordinary. Whether you are looking for an elegant affair, a casual party, or you're having a micro-wedding, White Laurel Estate offers full packages to fit every theme and style.
Guest Count Info
Guest Min: 0
Guest Max: 200
Frequently Asked Questions
Are other events scheduled on the same day as mine?
Nope! The whole property will be reserved for you and your guests!
How is alcohol handled?
Alcohol is not sold on the property. Guests must purchase the alcohol and bring it to the venue.
Alcohol must be served by our Bartender(s) and we provide the bartender, ice, cups and napkins with most packages. There is an alcohol liability insurance policy included and an off duty policeman.
We box up any alcohol that is left and send it home with the wedding party.
Can I stay in a Cottage if I am not having an event?
Our cottages are reserved for our wedding parties.
Rates / Packages
We have packages for everyone! Please visit our website to view all of our packages with pricing.
Tagged in Posts
Share with Family & Friends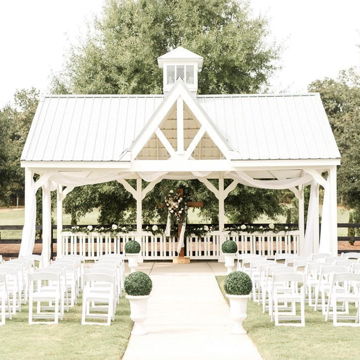 Galleries & Reviews
Contact Info
Location
White Laurel Estate
6370 Wagner Way
Dawsonville, Georgia 30534
More Reviews
Tags
Barnesville / Forsyth Wedding Venues
Lake Lanier / Gainesville Wedding Venues
North Georgia Wedding Venues
Allow Outside Alcohol (BYOB)
Farmhouses, Wedding Barns and Ranches
Guest Accommodations
Outdoor Weddings, Parks & Gardens
Rustic Weddings
White Modern Farmhouse Style
Wedding Venues
---
Member Since May 12, 2022
Review This Vendor