Imagine your honeymoon destination surrounded by autumn's bounty—luscious clusters of grapes dangling amidst manicured vineyards. A place where you can roam open spaces and intimate spots where hundreds of couples have exchanged their vows. At the edge of this 3,500-acre estate, face the Winery and witness the setting sun wash over a 17th Century-style French Chateau. Here, the architecture gem is splashed with diminishing sunlight to signal the end to another perfect day. You have arrived at Chateau Elan Winery and Resort in Braselton, Georgia.
Located 40 minutes north of Atlanta, Chateau Elan is a Four Diamond destination and a member of the prestigious Preferred Hotels and Resorts group. While Chateau Elan has a reputation as a prime wedding venue, couples are choosing to honeymoon here as well. The resort includes a 35-acre vineyard, a full-production, award-winning winery along with 313 luxurious guest rooms and suites. Newlyweds will especially enjoy the European spa with 14 overnight guest suites. The suites are designed with upscale amenities and spa-like bathrooms. The upholstered beds, with a rolled head and footboard appointed with nail head trim, kicks this lodging up a notch. Calming shades of blue, sand and sea glass are dominant throughout the rooms, lobby, and waiting area as well.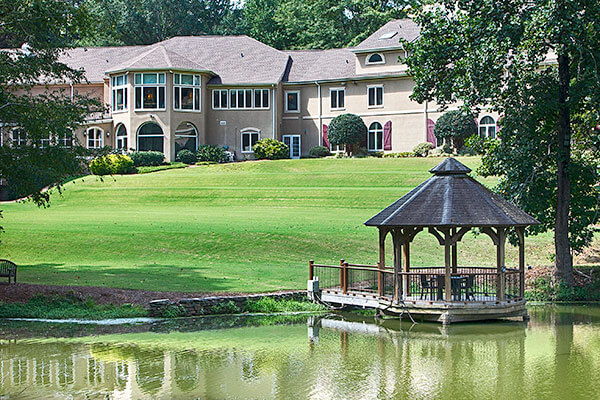 Spa Mansion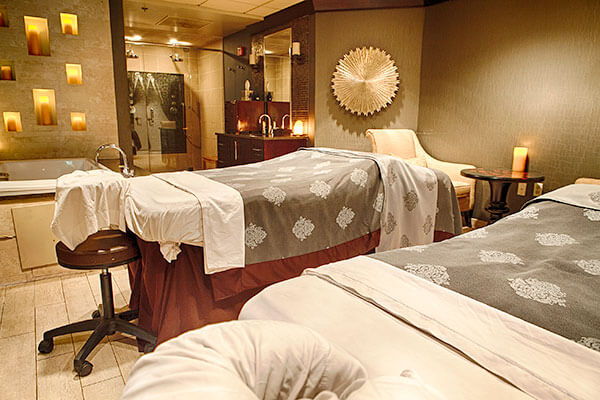 Couples Treatment Room
The Spa at Chateau Elan is a 35,000-square foot, full service European-style spa overlooking the lake complete with a gazebo and a bounty of flowering plants. Newlyweds can choose from a variety of the spa's "Couples Experiences" where treatments diminish stress by using wine-based products that keep your skin healthy and radiant. The Couples Treatment Room is where you can unwind with side-by-side massages complete with additional time alone for total relaxation. The soft glow of candles and the fragrant aroma of essential oils reflects the ambiance of this exquisite space. Try a pedicure and manicure and ask for technician Janice Suggs—the best Pedi I have experienced. Her hands are magic and the products are Vegan. This three-level oasis also boasts an indoor pool and the outdoor pool deck. The Fleur de Lis restaurant is located in the Spa Mansion—our favorite spot for breakfast while admiring the Spa Lake...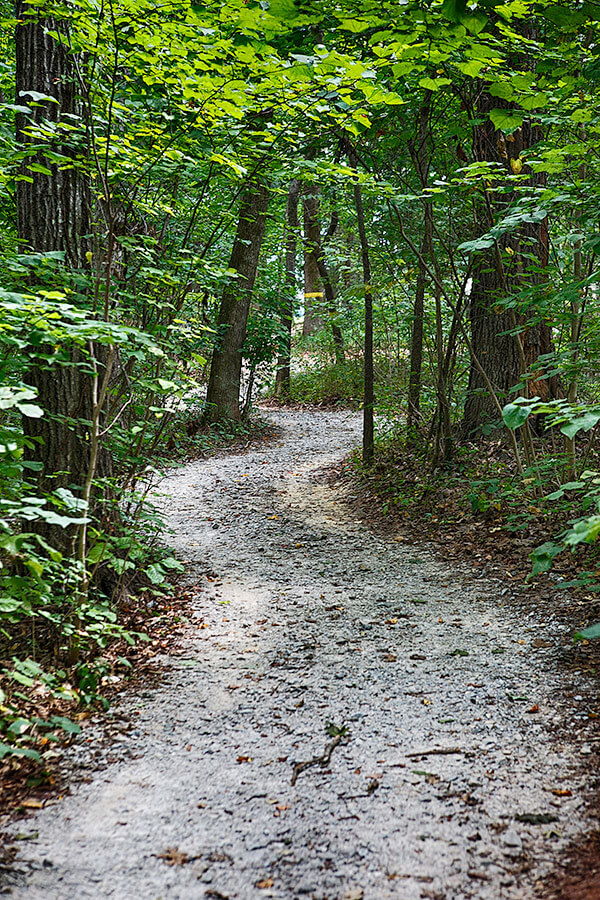 Serenity Trail
Activities include 63 holes of golf on four courses and a Stan Smith designed Tennis Center. Rent bikes and peddle the three miles of trails. Ask Guest Services to pack you a lunch and trek the 1.4-mile Serenity Trail where a winding path offers spots for picnic diversions. The Gazebo and intimate spots in the vineyards are other options for picnics.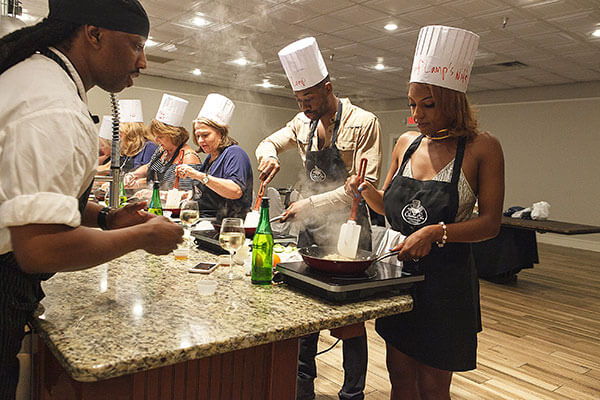 Chateau Elan's Cooking School
Make reservations for one of the most popular amenities--cooking classes located in the Winery's Culinary Studio with Chef Michael Echols. The classes are designed to teach culinary skills to groups (12 maximum), but my husband and I found it is the most fun you can have in three hours. Upbeat music set the mood while Chef Echols was teaching and entertaining. Would-be chefs hone their culinary skills and cook a variety of dishes using fresh ingredients on top tier kitchen appliances furnished from Viking. Once finished, everyone dines on their own delicacies with a table set complete with candles and wine.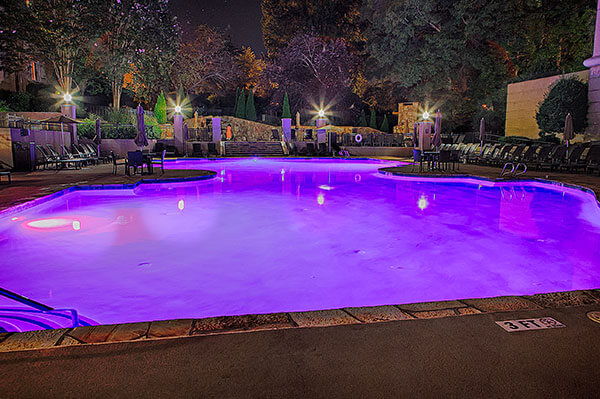 Resort Pool
The Chateau Elan Inn is another amazing lodging option with European style architectural and interiors that emulate elements of a French country estate. Inn bedrooms are larger than at most hotels with a free standing focal bed and unique touches such as an antique Eglomise mirror as a full-length wall leaning mirror. Ask for a room overlooking the pool complete with a hot tub and cascading stone waterfall. At night, the pool is calming with ever changing lights accenting the curves and surrounding area.
It seems the North Georgia soil is perfect for growing grapes and Chateau Elan has taken full advantage of making wine for three decades. The Winery has been the most awarded winery on the East coast with 220 awards over the past three years. Executive Winemaker, Simone Bergese, carried the famous Georgia wine to London and competed in two of the world's largest competitions in 2017. With over 100,000 wines competing, Chateau Elan won a medal at the International Wine Challenge and the Decanter World Wine Award—a huge feat in the world of excellent wine. Available in the full-service Chateau Elan Winery Cellar Door are tours of the production facility and wine tastings. The Cask Room is perfect for events and weddings, and if you really want the wow factor, you can book a private dinner.
Chateau Elan has seven distinctive outlets featuring a variety of dining experiences. Versailles Restaurant, located inside the sunny glass-topped Inn atrium, features a gourmet American Cuisine buffet and includes chargrilled steaks. Paddy's Irish Pub was officially commissioned in Dublin in 1979 by Chateau Elan founders, Dr. Donald and Nancy Panoz, and shipped from Ireland to Chateau Elan. The must-have menu item—Cottage Pie. L'Auberge has a relaxed atmosphere with large screen televisions and pool tables with light menu fare. Here you can enjoy live music on Friday and Saturday nights.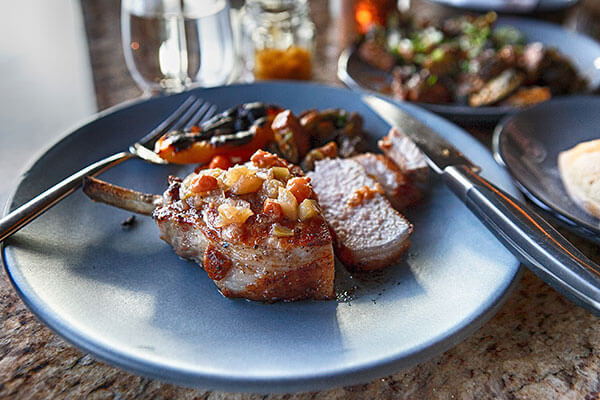 marc at Chateau Elan
Our favorite restaurant is marc. Located inside the Winery, be sure to reserve a table overlooking the vineyards. Here you will dine on exceptional hand-curated, locally-sourced ingredients. The service—impeccable! Our favorite menu items were the Brasstown Beef Bistro Filet and Beeler Farms Bone-In Pork Chop. The dessert must-haves are German Chocolate Cake and S'more Crème Brulee.
Chateau Elan Weddings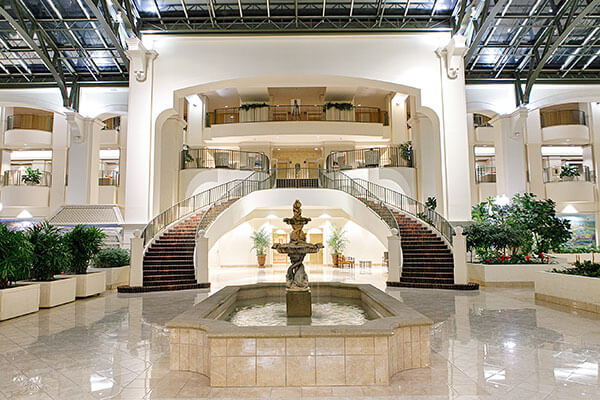 Grand Staircase in the Glass-Topped Atrium
For couples seeking a combined wedding and honeymoon destination, no one does weddings like Dawn Tibbles—wedding planner extraordinaire. With more than 120 weddings a year at multiple locations on property, Dawn and team are ready to assist couples with guests ranging from 20 in the Van Gogh Room to 600 in the Paris Ballroom—with soaring 20-foot ceilings, elegant French chandeliers and outdoor terrace. While many select their wedding outdoors using the vineyards as natural decorations, other brides dream of floating down the exquisite double Grand Staircase in the glass-topped Atrium.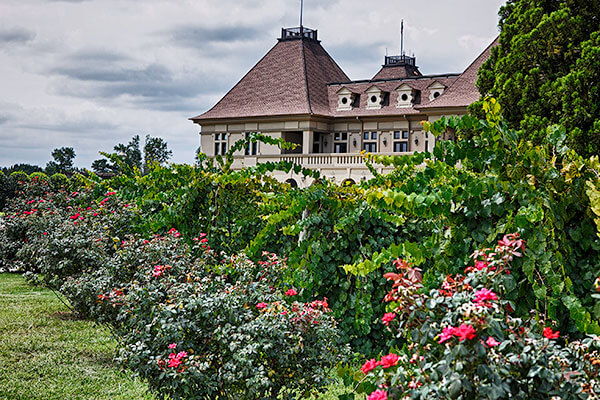 Rose Vineyard
Among the most popular ceremony locations include the Rose Vineyard near the Winery--seating 200 guests and offering beautiful views of both the Chateau and the rolling hills of the vineyards while also providing a flexible space with easy access. A favorite for larger wedding receptions is the Winery Pavilion, an industrial-style space with roll-up doors. Here, twinkling lights lace the exposed ceiling, and beautiful murals depict the famous landmarks in Paris. Chateau Elan is Georgia's premium wedding venue. Why waste time in long airport lines? The ideal honeymoon is just steps away from where you say, "I do." Visit https://www.chateauelan.com or call 678-425-0900. For wedding planning visit, https://www.chateauelan.com/atlanta-wedding-planning/
Photography by Larry Holloway Photography
---
Note from AtlantaBridal: Thanks to Linda and Larry Holloway for this awesome article on one of our preferred North Atlanta wedding venues, Chateau Elan Winery & Resort. You can view their AtlantaBridal profile and contact them here as well. If you use the links above, please let them know you read about them on AtlantaBridal! ♥ Lei