There is a certain mystique about a destination where romance and history intertwine. Cape Cod, Massachusetts, fits that description with its historic beginning, lighthouses, quaint villages and beautiful beaches. Imagine images of cawing seagulls chasing waves, playful whales, and bobbing sailboats. Couples from around the world honeymoon on this 70-mile-long peninsular where the President John F. Kennedy's family's compound of summer homes in the village of Hyannis's enclave at Hyannisport is among its most enduringly popular places to visit. The Cape is an extraordinary wedding destination with incomparable beauty. It is the exemplar of classic coastal New England beauty and a deeply romantic destination for the first days of wedded bliss.
Active couples will appreciate more than 120 miles of well-maintained bike trails with numerous diversions for privacy. Kayaking, hiking, and golfing are popular as well as sailing and fishing. Art flourishes amidst centuries-old traditions and culture — yet Cape Cod maintains a contemporary vibe. Four centuries of architectural gems cape-wide – cedar shake and clapboard houses weathered gray over time-provide proof you are in New England. Of Cape Cod's 15 towns, we chose the oldest town as home base for our journey — simply named, Sandwich.
The Dan'l Webster Inn and Spa – Sandwich, Massachusetts
Located in the heart of Sandwich, the Dan'l Webster Inn was everything we expected. The structure had its beginning as a tavern in 1750. There's something grand about staying at an amazing inn that's been restored true to the area's history and traditions. The owners thoughtfully blended the historic aspect of the Inn with modern amenities. Accommodations include 48 luxurious guest rooms or suites, many with canopies adorning four poster beds.
The Jarves Terrace suite is often tagged as a honeymoon haven--blending the best of both worlds. This expansive suite was more like three rooms. Its massive hand-carved bed was equipped with a comfortable memory foam mattress. The decor included a gas fireplace, but it was the corner of the room that caught our eyes—a huge Jacuzzi with a domed ceiling cover connected by columns. Our bathroom included a tiled shower and heated tile floors leading to a two-person glass enclosed shower.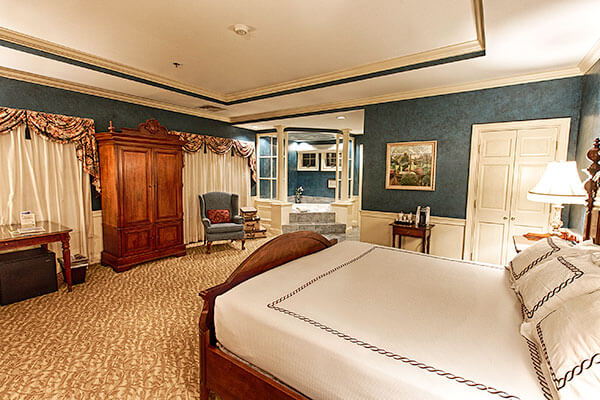 Dan'l Webster Inn and Spa – Jarves Terrace Suite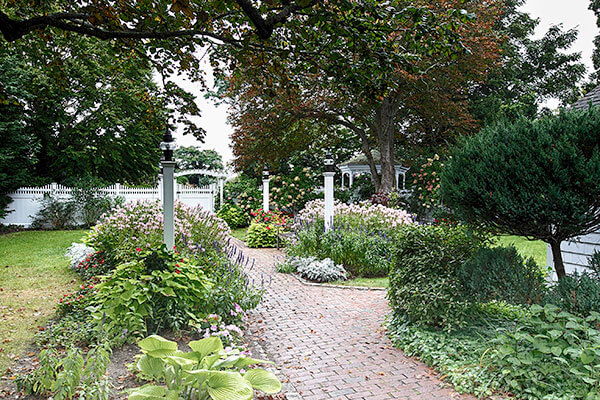 The Garden – Dan'l Webster Inn and Spa
Our exterior door led to the wrap-around balcony — complete with a comfortable seating area. It was the perfect place to relax following our flight from Atlanta to Boston. After renting a car at the Boston airport, it took less than an hour to navigate to the Dan'l Webster Inn and find our private spot on the balcony. Below the balcony, swaying flowers-powered by a healthy breeze were waving their hearty welcomes. We strolled down to the garden and followed a brick path flanked by a floral explosion of color.
The path led through a white wooden gate to a gazebo beyond. Here, couples exchange vows in an Eden-like atmosphere. The pool is beyond the white picket fence — perfect for splashing under New England's summer sunshine. The Dan'l Webster Inn also hosts weddings in its Music Room Conservatory, Jarves Room and Webster Room. The glass-walled Conservatory is ideal for receptions. Another popular wedding venue is the nearby Town Neck beach. The Inn's wedding planner handles every detail of weddings including transporting guests to and from the beach.
The Inn's acclaimed Beach Plum Spa and Med-Spa is idyllic for wedding parties and Inn guests for relaxation and indulgence. The Spa offers a complete menu of relaxing treatments using only the finest products. The Inn's dining options offer scrumptious fare inspired by Cape Cod. Can you say fresh seafood? We enjoyed our breakfast in the Conservatory each morning where, beyond the glass walls, ivy spilled over the structure, and Koi swirled around the water garden among lush plants. The service and the staff were impeccable.
Exploring Sandwich: Staying at the Dan'l Webster Inn, meant we could walk to shops and restaurants in Sandwich. The Town was settled as a trading post in 1637. Today you will find specialty shops, restaurants, and art galleries. We loved exploring this Town—exactly the Cape Cod experience we had hoped for. We wandered along rows of prim weathered clapboard homes, a town hall with huge pillars, and the Town Common shaded by a stand of ancient shade trees.
Make the historic Sandwich Glass Museum your first stop. Consider yourself lucky if your family heirlooms consist of Sandwich glass which is still highly prized by collectors and museums. Our favorite part of the Museum was its glassblowing demonstrations. From our bench, we were able to observe glass objects of art made using different techniques first employed in Sandwich. You can make a request to purchase a piece of glass art that is being demonstrated, and the artisan will complete it in front of you.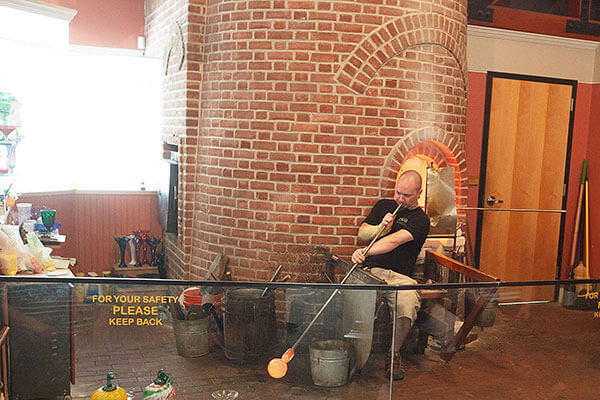 Sandwich Glass Museum – Glassblower
The Dexter Grist Mill grinds corn for visitors where it is easy to visualize the life of Sandwich residents in the 1600's. We then headed to Beth's Bakery & Café, (recommended by locals), and experienced delicious homemade sandwiches. Try the Cranberry Bog with chicken and dried cranberry salad. The ingredients are local and their cupcakes and cinnamon buns are scrumptious. Another day, we called ahead to Beth's for a to-go order that included everything we needed for a picnic.
A short drive took us to Heritage Museums and Gardens…a virtual paradise where privacy could be found in nooks among luscious award-winning Hydrangeas. We enjoyed walking narrow paths with gigantic flowering plants hanging in clusters over our heads and where benches were plentiful for picnics. Set on 100 acres, Heritage Museums and Gardens is the largest public garden in southern New England. The Museum's Automobile Gallery is located in the Shaker-style Round Stone Barn and includes 39 cars from 1899 to 1962, including a 1909 White Steam Car which was the first official automobile of a United Sates President, namely William Howard Taft. Remember, you are never too old to ride a carousel. The 1908 Looff Carousel is located in the American Art & Carousel Gallery. Between 1876 and 1916, Looff built 40 carousels; only about ten are still in operation today. Go ahead---enjoy a ride. We did!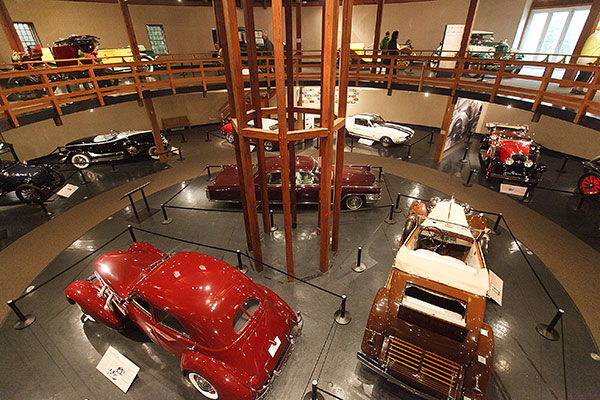 Heritage Museums and Gardens – Automobile Gallery
Visit Sandwich's historic, Hoxie House — named after a 19th century resident, whaling Captain Abraham Hoxie. The restored home was built circa 1637 on a knoll overlooking Shawme Pond, and is believed to be Cape Cod's oldest home. The 1701 inlaid Connecticut blanket chest is a favorite piece for visitors. Spend some time at The Sandwich Boardwalk, connecting Town Neck Beach, that offers sweeping views of Cape Cod Bay. Visit Cape Cod Canal Visitor Center and soak up the waterfront views from the front deck.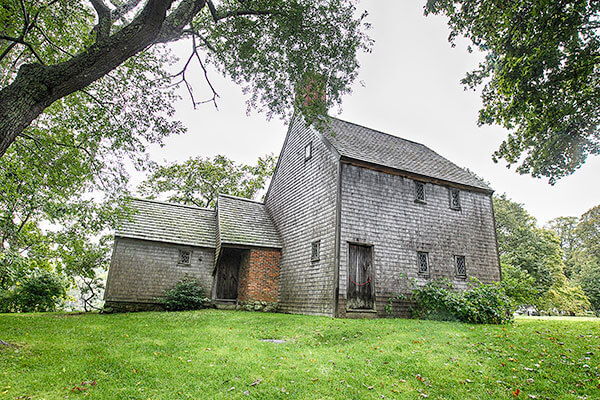 Hoxie House – Cira 1637
Beach Adventure and Wedding Bliss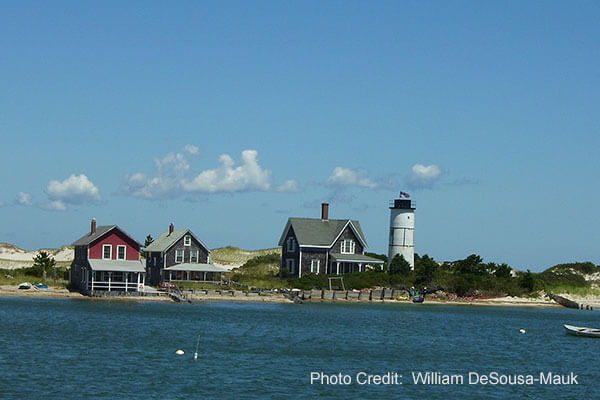 Sandy Neck Colony on Remote Outer Reaches of Sandy Neck Barrier Beach
Sandy Neck barrier beach (one of the Cape's longest) sits astride Sandwich and Barnstable, comprising a secluded 4,700-acre coastal wilderness whose six-mile beach 'arm' protects the actual northern shoreline Cape Cod. Along this arm you will find a remote trail of pristine beaches, mighty sand dunes, coastal maritime forests, and marshes. Six miles from the trail entrance, a small cluster of individually-owned, mid-19th century south-facing cottages near the tip of Sandy Neck (called West Bar, much of this section is dry only during low tide) with sweeping views of Barnstable's Cape Cod Bay beaches named Bone Hill and Millway. Sandy Neck Lighthouse was first built in 1857 at the end of the cottage colony (it was decommissioned in 1931; the actual light was removed in 1933 and was replaced and re-lit again in 2007).
If you are wanting a Cape Cod beach wedding like no other, nothing could be more memorable and dramatic than taking a boat to your wedding at West Bar, near Sandy Neck Lighthouse, and having your friends and family sail over to witness the event. If the timing is right, a sunset Sandy Neck wedding could become a most indelible memory.
Cruising the Cape
Historic Drive: Pick up a map at Cape Cod Chamber Visitor Center and enjoy Route 6A driving tour along a road also known as Old King's Highway. Route 6A winds through centuries-old towns like Barnstable, Yarmouth, Dennis and Brewster, filled with villages, historic homes and steepled churches. Notice the centuries-old stone walls along the way—pure Cape Cod. While Old King's Highway is just 34 miles long…you can spend the day shopping for antiques and other treasures. Visit the popular town of Chatham where the beaches are stunning. Chatham is nostalgic, beautiful and the shops are chic. Hint: You may just spot a celebrity shopping.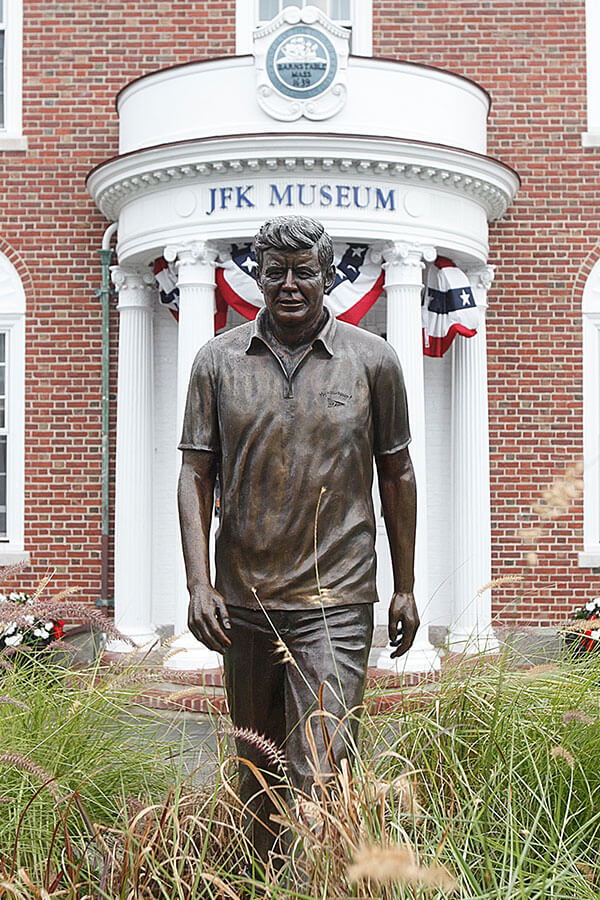 John F. Kennedy Hyannis Museum
The Kennedy Connection: Our 35th President, John F. Kennedy's connection, is found in Hyannis and Hyannis Port. Board a Hyannis Harbor Cruise ship on Ocean Street to get a waterview of the six-acre Kennedy Compound and Memorial. Tour the John F. Kennedy Hyannis Museum at 397 Main Street in Hyannis, and learn why the Kennedy mystique draws visitors from across the globe. We were impressed by the Museum's numerous large photographs and multimedia exhibits that portrayed the legacy of President Kennedy and family.
Treasures from Below: At the Whydah Pirate Museum in West Yarmouth, we found portions of the only authenticated pirate treasure ever discovered. The ship sunk during a storm in Wellfleet's, in 1717, and was discovered 250 years later by explorer Barry Clifford. We explored the Whydah replica and touched the actual bounty--coins, pirate pistols, and sword hilts. We also learned about the world of nautical archaeology that is unlocking the ship's contents.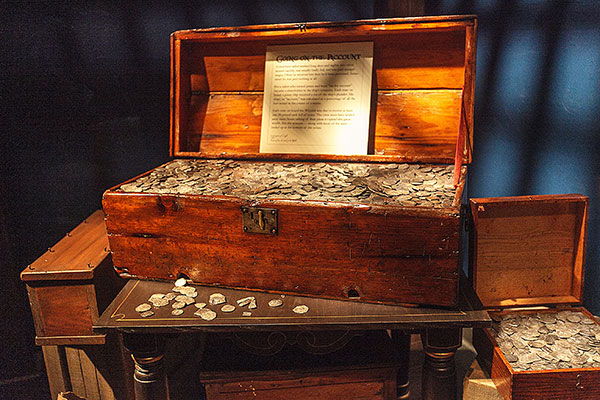 Whydah Treasure
Romantic Dining: Make reservations at Ocean House — overlooking Nantucket Sound. This award-winning waterfront restaurant is located in Dennisport. My husband dined on Sea Scallops while I couldn't resist their New England Lobster Roll Ravioli--cooked to perfection. Outdoors at Ocean House, the slapping of waves on sand was the perfect backdrop for an after-dinner walk. The obelisk-like décor spewed fire—keeping our ocean views highlighted as the light of day became scarce--very romantic.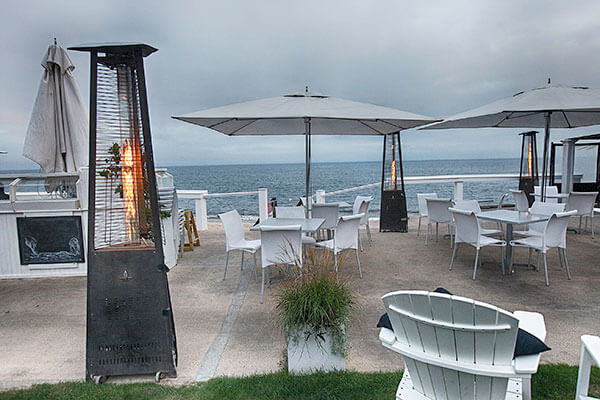 Romantic Dining – Ocean House
A Whale of a Good Time: Bring your camera! A Whale Watching excursion takes you on a 3- 4-hour adventure and is very popular with couples. Reserve your spot before you leave home. Take the Hyannis Whale Watcher cruise departing from Barnstable Harbor where professionals will navigate the waters to Stellwagen Bank, where these giant mammals – North Atlantic right, minke, sperm, sei, humpback, fin and pilot whales – often breach from the water and put on a thrilling show.
Exploring Lighthouses and The National Seashore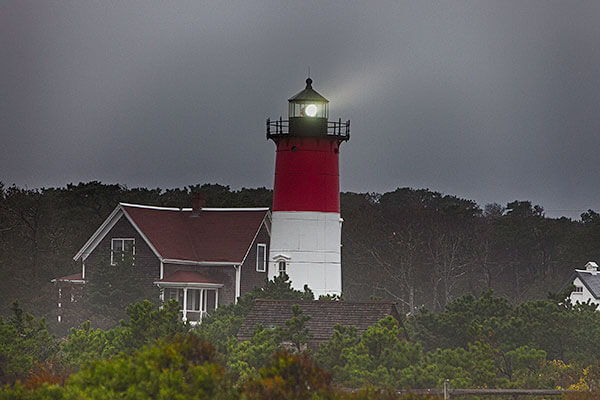 Nauset Light
The Cape Cod National Seashore is a spectacular 40-mile stretch of beaches, dunes, marshes, ponds, and uplands including historic attractions and eight picturesque and nostalgic lighthouses. The Cape itself is home to more lighthouses than any other destination in America (not all are commissioned).
Stroll one of 12 walking trails or pedal along three bike trails nestled in forest and dune landscapes. Coast Guard Beach, in Eastham, is the most popular on the Cape, so bring your swim suits and spend the day. It has been named to Dr. Beach's Top Ten Beaches in America for the past 16 years! Nearby, Nauset Light Beach is home to restored Nauset Light. We visited while a mist was falling, and the fog was beginning to roll in. The waves were vigorous, and dark was fast approaching. Knowing that, just like us, hundreds of couples have witnessed this historic lighthouse spread its beams to the sea was hauntingly romantic!
P-Town and Art's Dune Tours: We finished the last day of our journey along the Cape at the very tip in Provincetown, often tagged P-Town. Provincetown is America's oldest art colony where art galleries for every medium can be found on almost every block. We noticed numerous couples on bikes, blocks of eateries and funky boutiques. For a romantic stroll, check out Harbor Beach and Central Pier.
Dune Shack – Peaked Hill Bars Historic District
Make reservations for Art's Dune Tours — our favorite activity on the Cape. From P-town, we boarded a SUV and our driver/guide escorted us to the Peaked Hill Bars Historic District along the National Seashore protected lands. Here, the massive dunes and vegetation were extraordinarily unique. For a moment, it felt like we were in the desert with some dunes as tall as 100-feet, but then our guide drove us by the Atlantic shoreline where dozens of birds greeted our vehicle.
We learned about the history of the U.S. Life Saving Station and the famous dune shacks that were originally built to save the lives of stranded ship-wrecked sailors. Here, the primitive dune shacks (no electricity or water) have been occupied by such notables as Tennessee Williams, Harry Kemp, John Dos Passos and others. Our guide related it is rumored that Tennessee Williams penned the last chapter of "A Street Car Named Desire" here. Inside the tiny wooden walls, artists, poets and writers have produced masterpieces in isolation with no distractions, but the sounds of nature. Today, there are still creative minds lodging here, but there is a long waiting list. The most romantic of Art's Dune Tours is the Sunset Tour, and be sure to add the clambake and bonfire option. Imagine gathering around a roaring fire enjoying a lobster clambake with sand in your toes while witnessing the sun dip into the Atlantic. This memory maker will assure Cape Cod as an anniversary destination for years to come.
Fast Facts: Cape Cod Chamber of Commerce is the official destination marketing organization and regional tourism council for the entire Cape and its 15 towns.
Unless noted otherwise, all photography by www.larryhollowayphotography.com.