Danielle Brown Photography
Professional Member
Remember your wedding with stunning photos from Danielle Brown Photography & Film
Average Rating: 5.00 out of 5
(3 Reviews)
About Danielle Brown Photography
Founded in 2009, Danielle Brown Photography focuses on beautiful images with a light and fun soul. Photographing weddings throughout Atlanta and beyond, Danielle Brown Photography features a team of exceptional photographers who take pride in your images and capturing special, and never-to-be-repeated moments.
Danielle Brown Photography Reviews
Kerry B
Wedding Date: June 30, 2018
Looking for a picture perfect moment captured? Danielle Brown Photography is the ANSWER(in my Oprah Winfrey voice)! Seriously, I'm not trying to brag but our wedding pictures are AH-MAZ-ING! She (Danielle) uses her highest level of skills to capture photographic elements. I love her thought process when shooting. She acts like there isn't editing after our session. What do I mean? Danielle uses natural light, natural background as your backdrop..basically life is going on behind you while you are the star of your own photo. P.S I wish I could keep her in my purse everytime I do a selfie P.P.S- Why do I only get 5 stars to rate? I feel like I'm under rating her!
Posted: Aug. 13, 2020, 9:54 a.m.
Jasmine Peason
Wedding Date: Oct. 24, 2014
I absolutely LOVED having Danielle as my photographer for my engagement photos as well as my wedding photographer! I never had a problem with communication, punctuality, or professionalism. Many of the moments she captured during the wedding I didn't even notice she was there. One of the things I appreciated most was she didn't always listen to me (as weird as that sounds but let me explain). During my wedding my bridal party and I changed out of our wedding gear into all black attire for a dance routine we were performing for our husbands and if it were up to me I would have stayed in my comfy leggings and boots the rest of the night lol. When Danielle came to talk to me about changing back into my wedding dress for more photos I honestly think I told her no I think we have enough lol. Thankfully she didn't listen to me and convinced me to put my dress back on and we got some excellent shots ending the night. Once the wedding and reception was over and we tired and ready to leave Danielle was STILL convincing me go to another location for "special" photos we hadn't captured yet....she said trust me these are the shots you're gonna want to look back on. We agreed and sure enough some of the last shots we took of the night are the ones hanging on the walls of my homes today. Danielle is guaranteed to exceed whatever bar you've set for what you want out of a photographer, 5 stars truly is a understatement.
Posted: Aug. 13, 2020, 9:53 a.m.
Tessa B.
Wedding Date: Sept. 26, 2016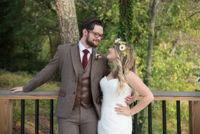 Danielle photographed our wedding in 2016. She was very professional and personal. Our engagement pictures truly captured our love and the wedding pictures were breathtaking and have been a joy to have to look back on that day. I would recommend Danielle to anyone looking for a wedding photographer who will work with you to perfectly capture the personal qualities of your relationship and wedding day.
Posted: Aug. 13, 2020, 12:02 a.m.
AtlantaBridal Member Since Aug. 12, 2020
Review This Vendor
Contact Info
http://daniellebrown.photography
link will open a new browser tab
Inquire
6789783880
6789783880
Location
Danielle Brown Photography
145 Church Street
Suite 295
Marietta, Georgia 30060
Rates / Packages
$1500-6000+
Other Info