Mulberry Chapel at Crockett Creek Crossing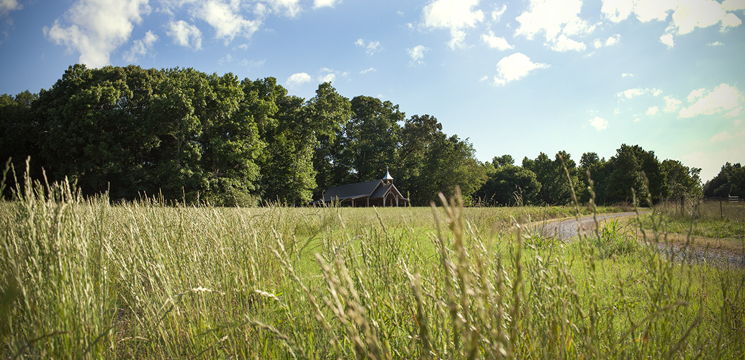 ---
Nestled in the foothills on a secluded farm with grand views of rolling pastures and natural woodlands, our open-air chapel is beautifully hand-crafted with timber beams, and adorned with an artistic steeple and brass bell—the perfect setting for a natural, elegant and private event.
Mulberry Chapel is a 2400 square foot open pavilion that can accommodate up to 175 guests. A separate cottage on the site is available with restroom facilities, a changing room, and a kitchenette. A large brick courtyard and picturesque meadow provides space for activities beyond the chapel grounds. Ample parking space available nearby. The venue is conveniently located off Interstate 85, approx. 75 miles northeast of Atlanta, 35 miles north of Athens, and 65 miles southwest of Greenville, SC.
Guest Count Info
Guest Min: 0
Guest Max: 175
Frequently Asked Questions
Can we bring our own vendors? YES. We do not force couples to use our preferred vendor list. We are happy to make suggestions for locals, tho.
Do you have guest accomodations?
YES. The Cottage sleeps 2-3, perfect for the night before or the night of! There is also an estate home available (sleeps up to 10) with a pool/hottub for an additional fee.
What if it rains?
Not to worry! We have a 20' x 40' tent (included) and 2 additional 10' x 20' tents for $250 each
Do you have additional seating or tables and chairs?
YES. In addition to the hand-crafted maple benches in the chapel (seats up to 100) that are included, we have 100 chairs, 12 round tables (seat 8 each), and four 6' rectangle tables. These are included with rental.
Where can the bridal party get dressed?
Included with booking, The Cottage, located just down the hill from the chapel, has a master bath with shower, kitchenette, seating and dressing area, and sleeping loft.
Is this facility wheelchair accessible?
YES, there are no steps to the chapel and there is a ramp to the wheelchair accessible restroom.
Rates / Packages
The Dogwood Package: Starting at $3250
Ceremony and Reception
Up to 100 guests (any additional guests are an extra $100 per 25, up to a maximum of 175 guests)
Friday 4PM – Sunday Noon (allows plenty of time for rehearsal, setup and decorating, ceremony, reception/party, and cleanup)
Cottage rental for 2 nights (sleeps 2-3)
20' x 40' Reception Tent
100 maple wood folding chairs
12 round 60" tables (seats 8)
3 rectangular 6' tables
Bench seating in the Chapel for 100 guests
Amenities include:

Bridal/dressing area in Cottage
Wheelchair accessible restroom
Brick Courtyard
Fire pit with firewood
Chapel, pathway, patio and reception tent lighting
4 rolling trash bins, trash removal on Sunday morning
The Mulberry Package: Starting at $1000
Ceremony only
Up to 100 guests (any additional guests are an extra $50 per 25, up to a maximum of 175 guests)
Access to the Chapel for 6 hours on day of ceremony
Access to the Chapel for 1 hour for rehearsal the day before the ceremony
Bench seating in the Chapel for 100 guests (additional seating for guests would need to be rented or sourced by the couple)
Amenities include:

Wheelchair accessible restroom
Chapel and pathway lighting
2 rolling trash bins, trash removal
Tagged in Posts
Share with Family & Friends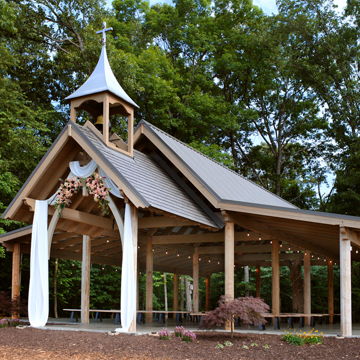 Galleries & Reviews
Contact Info
Location
Mulberry Chapel at Crockett Creek Crossing
135 Dr. Smith Road
Carnesville, Georgia 30521
Tags
North Georgia Wedding Venues
Allow Outside Alcohol (BYOB)
Allow Outside Catering
Churches and Wedding Chapels
Farmhouses, Wedding Barns and Ranches
Outdoor Weddings, Parks & Gardens
Rustic Weddings
Spectacular Views
Wedding Venues
---
Member Since June 19, 2021
Review This Vendor