The ATL Wedding Officiant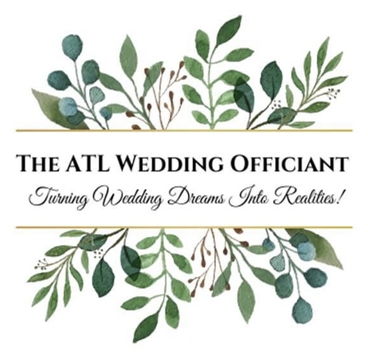 ---
The ATL Wedding Officiant offers custom writing and officiating services for Christian, non-denominational, interfaith and non-religious wedding ceremonies for ALL couples. No matter your vision...from the formal, traditional to whimsical and fun, she can help turn your wedding dream into reality!
Hello! I am professional Wedding Officiant and ordained, non-denominational minister, Valarie Manning. I would be honored to help make your wedding day the happiest day of your lives! I believe that a marriage ceremony should reflect the personalities, wants and desires of the couple. This is your wedding! With your input, I will create a custom ceremony that will reflect the two of you as a couple, entertain your guests, and be remembered for a lifetime!
Frequently Asked Questions
How soon should we book our Officiant?
Wedding Officiants work from a calendar just like your other vendors; however, without the Officiant all you have is a very expensive party! Please secure your Officiant early. I book weddings a year or more in advance. As soon as the venue is secured, securing the Officiant should be the next task on your list.
What areas do you serve?
I serve Metro Atlanta, North Georgia, Eastern Georgia, Upstate South Carolina, and Eastern North Carolina.
What types of couples have you worked with?
I have worked with clients from many different walks of life, religious, and nonreligious backgrounds. I love everyone and believe that all couples deserve to have the wedding of their dreams and on their own terms.
For more Q&A, please visit https://theatlweddingofficiant.com/faq
Rates / Packages
Simple Elopements, couple only, at my chosen location in downtown Athens, GA from $125.
Wedding Officiant Fees within 20 miles of Athens, GA begin at $225. Metro Atlanta, inside the perimeter from $275.
North Georgia mountains from $250.
Please visit https://TheATLWeddingOfficiant.com for details and to schedule a no obligation phone consultation!
Share with Family & Friends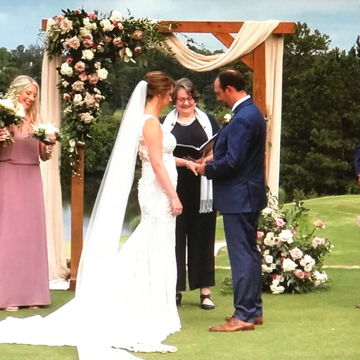 Galleries & Reviews
Contact Info
Location
The ATL Wedding Officiant
P O Box 82365
Athens, Georgia 30608
Tags
Officiants & Ministers
---
Member Since March 20, 2022
Review This Vendor