The Warren City Club
Average Rating: 5.00 out of 5
(1 Review)
Read Reviews
Login
to view additional information such as contact info, photos, videos, and more about this business.
---
Perfect for Rehearsal Dinner/Reception: Stylish interior, 3rd level garden terrace & skyline view; full service professional staff; award-winning food
Beautiful and unique full service reception and rehearsal dinner venue: The Warren is located in the popular Virginia-Highland neighborhood in a turn-of-the- century building with a stylish interior consisting of aged brick walls, high ceilings, exposed beams, five fireplaces and a third level garden terrace graced with a sweeping view of the Atlanta city skyline. We can accommodate up to 150 guests in a reception style or 80 Guests in a seated dinner setting. The garden terrace provides room for an additional 40 Guests.

Our Chef is trained by Johnson & Wales and creates delicious specialties. Some of The Warren's signature dishes include Lump -Meat Crab Cakes with house-made tomato jam, Seared Ahi Tuna with cucumber relish, and Krispy Kreme Bread Pudding. Our Party Menus offer a unique variety of options from which you may choose, though we will also accommodate most special requests. We have a full range of beverages which you may offer your guests using a cash or hosted bar. Hosted bars may be paid based upon consumption and you may limit your offerings as you wish, or you may choose one of our packages shown in the Party Menus. Prices and fees are included at each section of the Menus.

The Warren offers its Guests an experience to remember, as our professionally trained staff attends to every details of your celebration. Our service options include menus, wine pairings, flowers, design, music, and program direction. Our program director will manage the details for you, so you are free to enjoy your celebration. We have in-house DJs who will play to your tastes, or we can provide an ipod connection for your playlist or provide background music through our in-house system. The Warren can accommodate a dance floor and is also equipped with the latest technology, including wi- fi and an extra-large screen projection TV.

The Warren is designed to provide a lovely space without the need for additional decoration. However, if you would like to add to the décor, our in house designers are happy to work within your budget to provide floral arrangements, lighting, and other table décor to further create the look and feel you want for your event. You may also bring in your own décor, though we request no confetti, glitter or artificial flowers.

Hours of Operation

Office: 9-5pm Mon-Fri; Club:Wed-Sat 5-11pm
Guest Count Info
Guest Min: 25
Guest Max: 150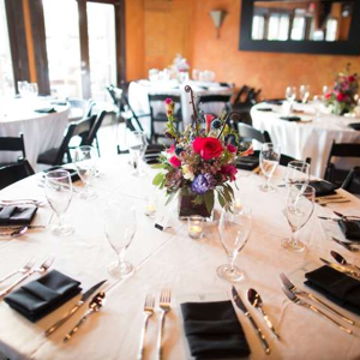 Login
to view additional information such as contact info, photos, videos, and more about this business.
Location
The Warren City Club
1190 Cumberland Rd NE
Atlanta, Georgia 30306
Tags
Atlanta Wedding Venues
Virginia-Highland Wedding Venues
Country Clubs, Golf Clubs & Private Clubs
Restaurants and Breweries
Wedding Venues
---
Review This Vendor
You may also like these venues...