I am loving Stacy and Rich's Hawaiian themed wedding at Vecoma at the Yellow River. The details are amazing – full of tropical flowers, vibrant colors, beautiful authentic Hawaiian lei's and more!
The cake topper says "You had me at Aloha!" – I mean how cute is that??? The welcome sign is stunning and they flew in these gorgeous fresh leis! The sand ceremony and blowing the conch shell – amazing! The guest book was a surf board – how cute! And I love that all of the guests wore Hawaiian shirts and the groom's nice performed a hula dance. Looks like it was simply a wonderful event at one of our favorite wedding venues. Congrats to Stacy and Rich!
You may be wondering about some of these traditions so let me tell you what I know.
The Sand Ceremony
What are those fancy containers filled with different colored sands and what are they for? The idea behind the sand ceremony is super cool—it's all about symbolizing the merging of your lives, your experiences, and everything that makes you awesome individuals.
Now, this sand ceremony thing isn't just exclusive to Hawaiian weddings—it's become a trend in ceremonies all over. People from different cultures and backgrounds have hopped on the sand train because it's a lovely way to show unity. You mix your sands together, and just like that, you've got a beautiful blend of your lives. It's like creating a unique sand masterpiece that represents your love and commitment.
But here's the fun part: you can totally personalize it to match your Hawaiian-themed wedding. Imagine using sands in colors that remind you of Hawaii's breathtaking beaches, the vibrant blue of the ocean, and the lush greenery of the tropical paradise. It adds that extra touch of island flair and brings the whole Hawaiian vibe to life!
Blowing the Conch Shell
The conch shell brings that extra touch of Hawaiian magic to the wedding ceremony. Just before a Hawaiian wedding ceremony kicks off, it is tradition for someone to blow into it a conch shell, or as the cool Hawaiians call it, the "pu" (pronounced "poo").
Now, blowing the conch shell isn't just some random act—it's got some serious significance in Hawaiian culture. It's like a cosmic calling card, making sure everyone knows that something awesome is about to go down. It's like the starting whistle at a big game, except this game is all about love and unity.
So, why do they do it? Well, first off, the conch shell is considered a sacred instrument. It's like the microphone of the gods, carrying their messages across the land and sea. When that shell is blown, it's like the Hawaiian deities and ancestors are joining the party, adding their blessings to the mix.
But it's not just about the spiritual stuff. Blowing that conch shell creates an electric atmosphere. It's a signal that something special is happening, and everyone better get ready to witness an incredible union. It's like a magical way to set the stage, creating a sacred space where love can bloom and flourish.
Basically, when that conch shell gets blown, it's showtime! It's a start like no other, marking the beginning of a beautiful journey for the couple and everyone there to celebrate with them.
Hawaiian Wedding Theme Tips and Ideas
Want to plan a Hawaiian-themed wedding like Stacy and Rich that'll blow everyone's flip-flops off? Check out these epic tips to make your big day totally rad:
Venue vibes: Find a killer spot that screams "Hawaii!" Think sandy beaches, lush gardens, or tropical hideaways. Ok I know, if you are in the Atlanta area (and really most of Georgia), we don't have a ton of sandy beaches. You could always head to the coast and rent one of the many venues in coastal Georgia. Even without heading to the coast, Georgia has a ton of outdoor wedding venues like Vecoma at the Yellow River that Stacy and Rich chose. These outdoor venues can provide that island atmosphere.
Invitation inspo: Design your invites to give a sneak peek of the tropical awesomeness to come. Palm trees, flowers, and ocean vibes are a must. Splash some vibrant colors like coral, turquoise, and sunshine yellow to get everyone stoked!
Color craze: Amp up the tropical vibes with a bold and vibrant color palette. Think flamingo pink, ocean blue, and palm leaf green. It's like a Hawaiian sunset exploded all over your wedding!
Flower power: Deck out your venue with jaw-dropping tropical flowers. Orchids, hibiscus, and plumeria are the real MVPs. Flower leis for your guests are a no-brainer—they'll feel like island royalty!
Tunes from paradise: Get a live band or a DJ who knows how to jam out with traditional Hawaiian music. Ukuleles, slack key guitars, and hula beats will transport everyone straight to the islands.
Mouthwatering menu: Time to chow down on some Hawaiian delicacies! Seafood, roasted pig (luau-style), and tropical treats like pineapple and coconut will make taste buds do the hula. And don't forget the cake—go for flavors like coconut or passion fruit to keep things extra tasty.
Aloha all the way: Embrace the Aloha spirit and sprinkle it throughout your wedding. Exchange leis, have a unity sand ceremony, or include a Hawaiian blessing. And make sure everyone dresses the part—bring out those floral shirts and flowy dresses!
Cozy seating zones: Create comfy chill-out areas with lounge chairs and hammocks. Add some tropical-themed cushions for that extra relaxation factor. Your guests will be in full vacation mode!
Island-inspired favors: Send your guests home with rad Hawaiian-themed favors. Mini ukuleles, personalized leis, or tropical-scented candles will have them feeling the aloha long after the party ends.
Showtime entertainment: Amp up the fun with epic Hawaiian entertainment! Hula dancers or fire performers will leave everyone in awe. It's like bringing a slice of the islands right to your dance floor!
I found some items on Amazon that you might like! These are "affiliate" links so if you click on them and buy something, we may get a tiny commission that helps us support this website.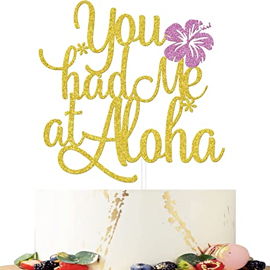 "You had me at Aloha" Wedding Cake Topper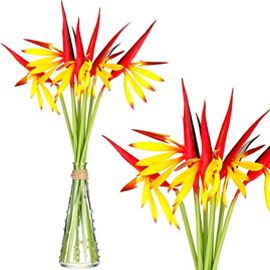 Other Hawaiian Wedding Décor like these Hawaiian Tropical Flower Bouquets
Follow these tips and your Hawaiian-themed wedding will be a tropical paradise of love and celebration. Get ready to hula the night away!